Engine Repair & Replacement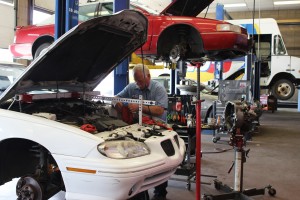 We will do all we can to keep your car running smoothly. If it is determined that a new engine makes more sense for your budget, Brown's Auto Services offers over 60 years experience in engine replacement services!
We pride ourselves in getting a correct diagnosis and ensuring that we communication with you all along the way. We keep you well informed and let you know what is a priority. We honor your extended warranties and offer a NAPA warranty on our work.
We know you rely on your vehicle, so you won't see any drawn out repairs and delays with Brown's! We pledge to replace your engine quickly and cost-effectively.
Diesel Engine
Engine Replacement
Lift Pump Service
Glow Plug Service
Slow Starting
Engine Systems
Timing Belts and Chains
Cylinder Head Gaskets Repair
Cylinder Head Rebuilding
Engine Replacement
Exhaust System Service
Engine Performance
Drivability Problems
Computer Re-Flashing
Computer Diagnostics
Check Engine Lights
Complete Tune-ups
Fuel System Diagnosis
Fuel Pump Replacement